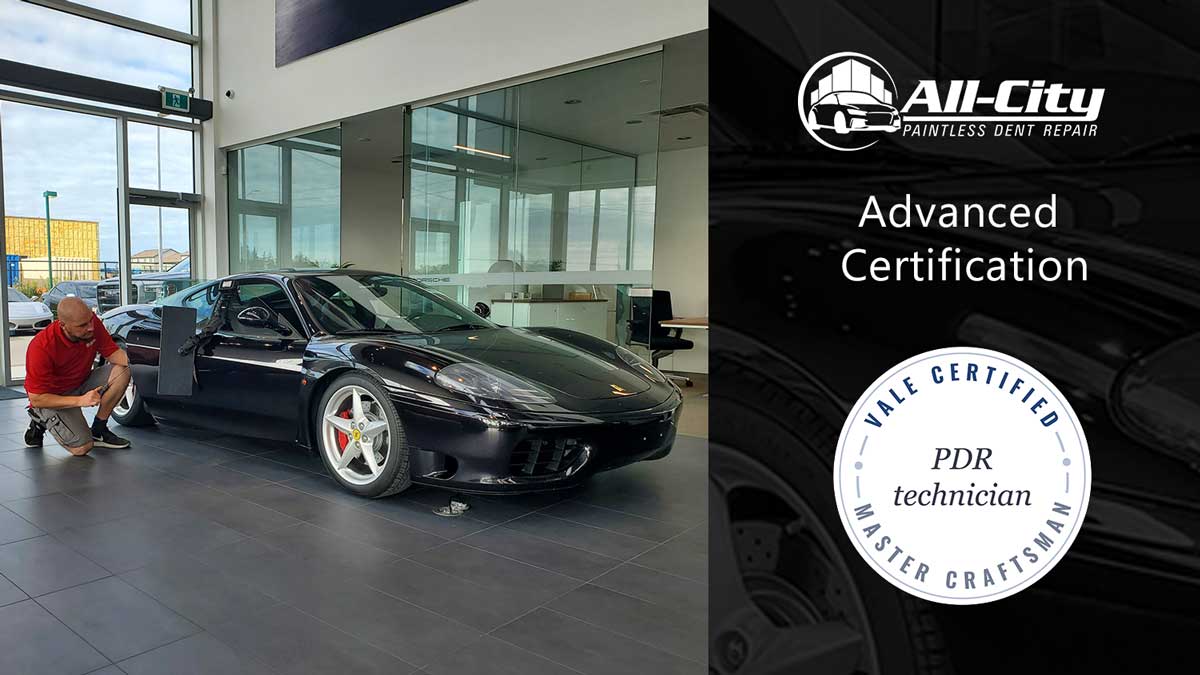 All-City Earns Advance Level Certification
Beauty may be in the eye of the beholder, but measuring the true skill of a craftsman in a scientific way isn't always so easy. Many trades have methods of measuring quality and accuracy, but a specialized art like Paintless Dent Removal has very few. Putting our repair skills to the test is part of our commitment to continuous improvement and ongoing training. All-City is excited to announce that earlier this year our Owner/Lead Technician Korey Togtema achieved a "Master Craftsman" certification awarded by Vale Training Solutions.
A Scientific Approach To Certifying Repair Quality
The Vale test evaluates a technician's ability to perform high quality repairs in a timed period using precise 3D scanning equipment. Measuring the quality of repair in terms of microns (1/1000th of a millimeter) this technology compares the pre-damaged and post repair scans which serves as an objective way to test a repair's level of perfection .
Vale offers three certification levels (Journeyman, Craftsman and Master Craftsman) which coincide with a technician's ability to remove small, medium and large sized dents from both steel and aluminum panels (9 dents total). To achieve a passing grade, the PDR technician needs to repair the dented panel back to its original state with in a very narrow margin of error. Given the precision needed for this test, we're happy to announce that Korey not only was awarded his Master Craftsman level, but cleared each dent on the first scan!
Certification Helps Our Industry
In setting a standard of excellence for Paintless Dent Removal companies, certifications like Vale play an important role in providing confidence to the consumer that a qualified technician is working on their car. Since no governing organization exists for this trade, it is important that retail , dealers, and fleet/insurance customers know that a PDR technician has met a standard for repair quality. At All-City technical knowhow and attention to detail matters as we aim to give our customers the best results.
Our Certifications
In addition to Vale, we are also very proud of our ARC certification which was attained in 2018. ARC is a non-profit organization that certifies via an expert peer review panel. This panel evaluates a technician's repair portfolio measuring their ability to repair large, complex and creased damage. For more info visit our About Page.